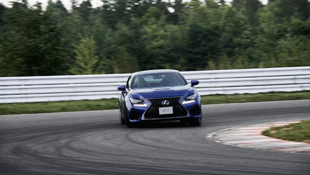 Lexus RC F is one of the world's most powerful luxury sports coupe. This 2-door coupe is engineered to offer enthusiasts some of the most thrilling moments behind the wheel.Recently, the Lexus RC F car number 36, driven by Takeshi Tsuchiya, Tatsuya Kataoka, Kazuya Oshima, and Takuto Iguchi, successfully completed this famous endurance race held in the state of Rhineland-Palatinate, Germany. The Lexus RC F was entered by GAZOO Racing alongside the experienced TOM'S racing team, a partnership that was formed with the aim of learning from the passion and know-how of the veteran TOM'S mechanics.
Ten years of hard work nurturing the right team is providing a new springboard for helping to build ever-better cars. This year, GAZOO Racing entered the Lexus RC F for the 44th 24 Hours of Nürburgring endurance race and the car took 24th place overall and finished first in the SP-PRO class.
Speaking on the occasion, team representative Akio Toyoda, said, "Ten years have passed since we drove our first 24 Hours of Nürburgring. Since then, our drivers, mechanics and support staff have joined together as a team each year with the aim of racing as many laps as possible."
Mr. Toyoda added, "Over the last ten years, the efforts of GAZOO Racing have been supported by fans from around the world. We have succeeded thanks to the hard work and leadership of many people who committed themselves to seeing things through and refused to give up no matter what difficulties they faced. Our efforts to create ever-better cars and to nurture the people to achieve this are never-ending. As part of these efforts, we hope to continue to take on the challenge of the Nürburgring in the future."
According to Takayuki Yoshitsugu, Chief Representative, Middle East and North Africa Representative Office, Toyota Motor Corporation, "The performance of the GAZOO Racing team at Nürburgring was commendable and testimony to the capability of the Lexus RC F and the racing prowess of the entire team. The 24 Hours of Nürburgring provides valuable opportunities to understand the limits of our cars and to nurture the capabilities to improve them under harsher conditions than a conventional test course. We appreciate the support of our customers in our racing endeavours over the years, which have helped us to raise the benchmarks in developing new vehicles and enhancing our existing range of cars."
One of the principle aims of GAZOO Racing is to help Lexus build up ever-better personnel in addition to its ever-improving cars through the medium of motorsports. The Lexus LFA is a well-known example of a production vehicle that incorporated lessons learned during the 24 Hours of Nürburgring endurance race.
In Oman every Lexus vehicle comes with special benefits and privileges such as 6 years unlimited extended mileage protection and Lexus Prestige Club Card that offers 24 hours on-road assistance from AAA. For more information visit www.lexusoman.com, www.youtube.com/lexusoman