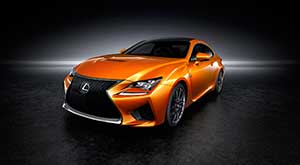 Sleek and aggressive stance, striking grille and interiors that will lead you into wishful thinking – the All-New Lexus RC F, the first coupe in the Lexus range, attracted a large number of discerning customers at the Oman Motor Show. The RC F has an all-new 5.0-liter 32-valve, 471 Hp, V8 engine that provides maximum power at higher engine revolutions than previously possible. RC F lives up to the philosophy that F models must be fully capable of running on a circuit as a venue for pursuing driving pleasure freely and safely.
The RC F's striking, cockpit-like interior enhances the overall driving dynamics with its unique components which include the meters, steering wheel, seats, ornamentation and pedals. The primary instrument gauge has been developed from LFA with extra enhancements which can be viewed at a glance, an essential requirement of track-day activity. The steering wheel is unique to RC F to provide firm grip and operation. The RC F's all-new combination meters provide a wide range of easy-to-read information for the four drive modes.
The combination meters include a large centrally mounted tachometer that alters according to drive mode, digital and analogue speedometer, torque vectoring differential monitor (World's First for Front), G-Force meter, oil and water temperature gauges, mileage information and a stopwatch. The RC F debuts a Lexus-first elliptical cross-section thick-grip steering wheel for greater control during performance driving.
"It was great to experience the All-New RC F. It looks very aggressive and highly impressive," said one of the visitors. "I was particularly impressed with the latest touch-pad technology in the RC F's interiors. It's something I have never seen in any other automobile. Truly Amazing!"
Besides the bold and aggressive RC F coupe, Lexus also put on display some of its best-selling models throughout the world. They included the latest RC, RXh, CT200h, LS460L – Prestige, IS F Sport and GS F Sport.
Visitors to the Lexus stall also had an opportunity to learn more about Lexus and the lengths it goes to, to create amazing luxury automobiles. For more than two decades, Lexus has redefined the meaning of luxury driving. Relentlessly pushing the boundaries of design, technology, craftsmanship and customer care. To present its customers with experiences as amazing as the vehicles themselves.
Lexus enthusiasts wishing to catch a glimpse of the future are encouraged to visit the Lexus arena at the Oman Motor Show from the 2nd to 5th December 2014.