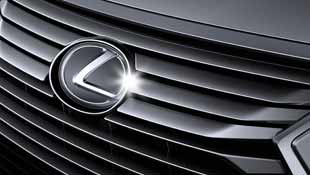 Lexus vehicles are one of the most advanced and luxurious in the world. Experiencing them will instantly lead you to understand the vast amounts of research, development and passion that go into setting each one of them apart.Encouraging Luxury Intenders to be associated with the classic range from Lexus, eager customers can now look forward to owning their favorite Lexus and that too with exclusive benefits such as Free Service Package of 4 Years / 40,000 Kms and Free One Year Registration, 6 years unlimited mileage warranty (Conditions apply. Customers can visit any Lexus showroom for details). Just visit the showroom and our friendly Lexus staff will help you get closer to owning your dream."
Lexus enthusiasts have 8 Classic models to choose from – the IS, ES, GS, LS, NX, RX, GX and LX.
The sleek and aggressive looking IS350 is powered by a smooth 3.5 litre engine providing 312 hp @ 6,400rpm and 38.5 kg-m/4800rpm torque. The Lexus IS is now also available in turbo option as the IS200t sedan. It delivers 241 hp with a maximum torque of 35.7 Kg.M/1650-4400 rpm.
The popular Lexus ES is equipped with a lot that many would want out of their luxury vehicle. It is quiet, has a well-crafted cabin, a plush ride and commendable performance from a powerful, nearly silent engine. The Lexus ES is available in options of a 2.5L, 16 Valve, DOHC engine churning out 181 hp and 24 kg.m. of torque and the 3.5 litre engine churning out 272 hp and 35.3 kg.m. of torque. This is mated to a 6-speed automatic transmission along with a choice of ECO, NORMAL and SPORT modes.
Engineered for responsive power and superior handling, the latest GS also delivers sophisticated refinement, leading-edge innovation and advanced technology that establishes the future for performance luxury sedans. The GS is available in options of a 2.0L Turbocharged,16 valve DOHC with Dual VVT-I engine producing 241 hp at 35.7 kg.m torque and a 3.5-liter engine producing 312 at 38.7 kg.m torque.
Lexus flagship LS is complemented with many exceptional improvements including three world firsts, no less than 15 Lexus firsts, and a host of technical innovations and features. The LS line-up is equipped with a 4.6L engine and come with 8-speed automatic transmission.
The turbocharged NX combines the expertise of racers within the engineering team and the impeccable touch of Lexus luxury through an exciting and sporty design to set a new benchmark in the automotive world. The 2.0-liter, direct-injection turbo engine uses an advanced valve control system to switch between Atkinson cycle and Otto cycle operation to optimize performance.
The five-seat Lexus RX350 is a midsize luxury crossover SUV equipped with that's offered in one well-appointed trim level. The Lexus RX350 is powered by a 3.5-liter engine that produces 296 horsepower and 37.7kg.m of torque. And is mated to an eight-speed automatic transmission.
The Lexus GX460 is perfect for families who seek no-holds-barred adventure on their days off, yet also desire an easy-driving, comfortable and versatile luxury SUV for the work week. The Lexus GX460 features a 4.6L engine that provides outstanding power and responsive performance.
The LX570 possesses under its hood a 5.7-liter engine that delivers the punch and towing power demanded in this segment. The LX570's eight-speed automatic transmission is designed to handle high torque while performing with Lexus quietness and smoothness. The electronically-controlled transmission's control unit estimates road conditions and predicts the driver's intention to select the appropriate gear ratio for the vehicle's speed and the driving conditions.
In Oman every Lexus vehicle comes with special benefits and privileges such as 6 years unlimited extended mileage protection and Lexus Prestige Club Card that offers 24 hours on-road assistance from AAA. For more information visit www.lexusoman.com, www.youtube.com/lexusoman