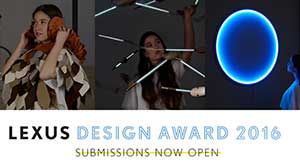 Lexus Design Award 2016 is a platform for designers from all over the world to benefit from. Here designers can share their innovative projects and get an opportunity to become famous. Entries to the Lexus Design Award 2016 competition will be accepted till October 18. Twelve finalists will be announced in early 2016. First launched in 2013 to foster the growth of ideas that can contribute to society, Lexus Design Award aims to support up-and-coming creators with international recognition, monetary support and guidance from design experts.
The theme for the Lexus Design Award 2016 is "Anticipation". Lexus strives to develop products and services by anticipating the needs of people and society. This year's applicants are encouraged to submit innovative designs and unique interpretations that are true to the essence of the theme.
Lexus Design Award 2016 provides an opportunity for twelve finalists and their works to receive an introduction to the design community and beyond at Milan Design Week 2016. In addition, four of the finalists will develop prototypes of their designs while receiving support from globally recognized design mentors. The maximum production budget allotted to the development of each prototype will be increased to three million yen (around USD $ twenty four thousand). The finalists will present their designs in the Lexus booth, after which the Grand Prix winner will be selected from among the four prototypes through final review by the judges.
According to Takayuki Yoshitsugu, Chief Representative, Middle East and North Africa Representative Office, Toyota Motor Corporation, "Through the Lexus design award, we look forward to supporting the next generation of designers and inspiring them. Moreover, the finalists will greatly benefit from the experience of being mentored by acclaimed designers. They will also be able to exhibit their design prototypes at one of the design calendar's most important events. We look forward to the 2016 edition and experiencing new ideas from gifted designers all around the world. We would also like to acknowledge the support from our customers who have appreciated the novelty and fresh ideas that have emerged as a result of this award."
Previous Lexus Design Award winners are actively displaying their talents around the world. Examples include Emanuela Corti and Ivan Parati's Sense-Wear, which was named the first-ever Grand Prix winner in 2015. Sense-Wear has been exhibited in Tokyo and Moscow alongside the works of other 2015 finalists. 2015 panel finalist Yuzo Azu is now preparing his INSTAMP for commercial release at Lexus dealerships in Japan. Sebastian Scherer, whose work Iris was named one of the winners in 2014, has launched his own design label and exhibited at Milan Design Week 2015. The world's largest design exhibition, also known as Salone Del Mobile, with numerous events including furniture, fashion and many world-renowned brands.
The "Lexus – A Journey of the Senses" exhibit in 2015 earned high acclaim and won the "Best Entertaining" award at the "Milano Design Award" competition.