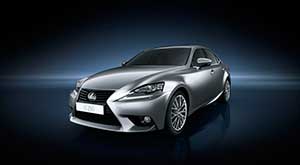 Lexus' powerful and aggressive IS has done exceptionally well to make its mark in the heart of its enthusiasts. Its aggressive profile, inclusion of technologies inspired by the LFA and its performance advantage have all combined to make the Lexus IS one of the finest luxury cars available today. Recently at the Scottish Car of the Year Awards, the Lexus IS was named the best Executive Car. The honour was presented by the Association of Scottish Motoring Writers.
Lexus IS looks fast and powerful, even standing still. From front, the unique trademark spindle grille is elegant but aggressive. From side, the lines of car flow smoothly from door sill up to tail-lights in the rear which are angled down and out, with rear spoiler now integrated into trunk lid's trailing edge. This car is definitely sportier. L shaped LED daytime running lights are positioned just underneath the headlamp cluster drawing eye to side and rearwards in a subtle but sophisticated way. This is 3 dimensional designs at its best — from any angle; aerodynamic lines of New IS suggest speed and agility.
The revised front suspension has a 20 percent increase in sway rigidity while the multilink suspension provides better grip and control. The new electric power steering system offers a more authentic road feel, with better feedback. All these technical improvements add up to one thing – Lexus IS handles better under all conditions, accelerating, cornering, and in the fast lane. At the wheel, you feel every move really is your move. The car is a true extension of its driver.
The IS350 is available with a 3.5 litre V6 with D4-S direct and port fuel injection which produces 312 hp @ 6,400rpm, 38.5kg-m/4800rpm torque. And the IS250 is powered by a smooth 2.5 litre V6 providing 207 hp @ 6,400rpm and 25.7 kg-m/4800rpm torque.
A new Drive Mode Select system features up to four driving modes. The Normal Mode offers relaxing driving performance within the city and on the highway. The Eco Mode offers controlled driving performance for optimum fuel economy while the Sport/Sport S Mode offers a sporty driving feeling and excellent acceleration performance. A unique and very stylish Electrostatic Temperature Control Switch enables quick, intuitive operation of air conditioning. The Electro Multi Vision Navigation (EMVN) system with Remote Touch Interface (RTI) features Speed Limit Display & Route Trace Registration as well as QR Code for Destination which converts the destination information into QR (Quick Response) code that can be read by a smart phone or similar device.
Lexus IS also comes with the F Sport version for those who wish to raise the bar on a highly thrilling and rewarding experience. The IS F Sport's interior and driver's cockpit are reminiscent of the LFA – sporty, ergonomic, yet elegant. Turn on the ignition and it isn't just the meter display that lights up but your excitement to be at the wheel again! The newly designed meters are simply eye-catching. The spindle grille exudes power. There is a range of exclusive new colours, for all tastes. And we have paid meticulous attention to every detail. The IS F Sport redefines the concept of modern luxury sport sedan. Its exclusive spindle grille is eye-catchingly bolder. Bottom corners of the front bumpers feature aerodynamic intakes that not only look great but enhance brake cooling.
The unique 18-inch wheels' Y-spoke design recalls the LFA. Interior trim detailing includes an F SPORT steering wheel shift knob, aluminium pedals and scuff plates with the Lexus logo. Both the front and rear suspension systems and Electric Power Steering (EPS) are exclusively tuned.
Optional Variable Gear Ratio Steering (VGRS) controls steering angle in accordance with vehicle speed and driver operation to realize better control at all speeds and improve driving feel during lane-changing and navigating winding roads. An additional driving mode, SPORT S+ (IS350 F Sport only), uses an Adaptive Variable Suspension (AVS) system and refines the power train, so the driver can fine tune the ride for even more fun when driving.
Lexus is constantly looking to the future, driven by innovation. The process to create a Lexus vehicle is unique within the automotive industry. Taking inspiration from fields as diverse as the fashion industry, architecture, the arts and medicine, each vehicle is painstakingly crafted to meet Lexus' exacting standards.