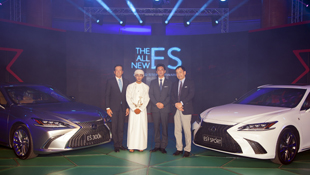 At an exclusive function, held at Lexus showroom, Wattayah, the completely redesigned Lexus ES, the world's popular Lexus sedan was launched in Oman. The Guests of Honour at the function were Mr. Yasuhiro Sakakibara – Chief Engineer, Mr. Akitoshi Takemura – General Manager and Mr. Yugo Miyamoto, Chief Representative, MENARO. The event was attended by Dignitaries from the Public and Private sectors. Speaking on the occasion Mr. Yasuhiro Sakakibara, Chief Engineer, ES, said, "In Oman, the history of ES started in 1998, 9 years after launch of the Lexus brand in 1989. Since the first to seventh generation, its popularity has been built on class-leading comfort and our commitment to human-centred experiences. I dreamed of designing the ES in a way that would deliver a higher level of enjoyment for its drivers and passengers. The new ES blends key elements of design and performance that challenge the traditional expectations of consumers. Not only is the new ES more exciting to look at, it is also more exciting to drive, whether on city streets or on a winding road. From this full model change, we introduce a Hybrid model in ES at the first time. Hybrid is the key technology of Lexus. To achieve superior performance, we have a new hybrid engine for new ES. In addition to Hybrid engine, we have 3.5 litre V6 gasoline engine, and New 2.5 litre gasoline engine."
Speaking about what makes the ES so special he said, "High quality materials made by Japanese TAKUMI craftsmanship are used to offer comfortable cabin. For rear passengers, spacious and relaxing cabin is offered with our OMOTENASHI spirit. With the new generation of Lexus Safety System +, we have some update for both Pre-Crash Safety and dynamic radar cruise control on top of original safety technologies. Thanks to the refined monocular camera, the new Pre- Crash System not only provides auto brake support to reduce impact with the leading vehicle in case of emergency, it can actually avoid collision with vehicles. In addition, now Pre-Crash safety system can detect pedestrians whole day. Furthermore, Dynamic radar cruise control activates from 30km/h, originally from 50km/h to make easier to drive even in urban area. For a higher level of dynamic performance, we have introduced the first ever ES F SPORT".
The introduction of the new Lexus ES continues the brand's commitment to crafting vehicles with heightened excitement, emotion and passion. A key element of the redesigned ES is the all-new Global Architecture–K (GA-K) platform. More than just an engineering achievement, the GA-K platform gave the designers the flexibility to create an ES that's as visibly striking as it is enjoyable to drive. The ES350s are powered by a 3.5-litre engine designed to deliver effortless acceleration along with impressive efficiency. This is paired to an all-new 8-speed Direct Shift automatic transmission.
For the first time ever the ES will also be available as a Hybrid Electric Vehicle as ES300h. An all-new 2.5-litre, four-cylinder gas engine (A25A-FXS) running on the Atkinson cycle is coupled with a smaller, more power dense electric motor and an all-new hybrid transaxle. For the first time ever the ES will also be available as F Sport mode. The newly introduced F SPORT model sets out in a different direction entirely, with a grille that borrows directly from the LS flagship. The F SPORT model gets unique 19-inch wheels that are similar to those used on the LC and LS. There's also an all-new metallic trim that comes standard on the F SPORT model called Hadori Aluminium. Inspired by an ancient sword polishing process, Hadori Aluminium trim has a unique pattern that adds a three-dimensional appearance depending on the viewing angle. The effect is subtle yet indicative of the level of detail and craftsmanship that the team put into giving the F SPORT a unique place in the line-up.
One element of the ES that hasn't been radically transformed is its dedication to safety. All versions of the seventh-generation ES feature Lexus Safety System+ 2.0 as standard equipment. Already one of the most sophisticated systems of its kind, LSS+ 2.0 adds new capabilities that further expand the scenarios and the range of speeds in which it is designed to provide additional safety to the driver and passengers. An example of such a feature is daytime bicyclist detection which is part of an enhanced Pre-Collision System (PCS) that employs both a millimetre wave radar and a monocular camera sensor. Previously designed to detect a preceding vehicle or pedestrian, the Pre-Collision System now has the potential to detect a preceding bicyclist as well. PCS has also been enhanced to help detect a preceding pedestrian in certain low-light situations by increasing the camera's sensitivity and dynamic range.
The previously available Lane Departure Assist (LDA) system remains an integral part of LSS+ 2.0. It's designed to alert the driver when it senses that the vehicle is deviating from its lane with both audible and haptic alerts. It's also capable of providing a certain amount of steering assist to help keep the car from deviating from its marked lane. A new feature for LSS+ 2.0 is Lane Tracing Assist (LTA). Like the Lane Departure Assist system, the new Lane Tracing Assist system is designed to detect lane markings to determine lane position. If road markings are not detected, LTA is also capable, in certain conditions, of following the car ahead of it when used in conjunction with the All-Speed Range Dynamic Radar Cruise Control (DRCC) system. An enhanced version of the All-Speed Range Dynamic Radar Cruise Control System uses a more advanced forward radar sensor that is designed to provide smoother acceleration and braking in heavy traffic. Also added is a new Road Sign Assist (RSA) feature designed to read certain road signs and display them on the multi-informational display or head-up display if equipped.
Earlier in the evening, Mr. Abdullah Mohammed Bahwan said, "In Oman Lexus has a very special presence. This is because of the brand's focus on the future and a passion to offer the best. In Oman, the tradition of Omotenashi – Japanese spirit of hospitality has had a strong impact on every aspect of our business. Helping us to understand and fulfil the needs of our customers. This tradition has now grown to become a well-known and inspiring experience. From the very first day of its launch in Oman, to this very moment, Lexus has become famous for its unique ownership experiences. Quality, technologies, safety and more have contributed to taking these experiences even further. But beyond this, is the faith that customers have in Lexus, that finally defines our success. I thank our customers for their continued patronage. I would also like to thank Toyota Motor Corporation, for their constant support and encouragement.
During the event, the first few customers of the All-New ES were felicitated by Mr. Yasuhiro Sakakibara and Mr. Akitoshi Takemura. Later, Lexus enthusiasts went around viewing the vehicles on display and getting a first-hand experience of the flagship Lexus vehicles.
The All-New Lexus ES is now on display at the Lexus showrooms.